Going Off-Road: Jeep Preparation
There's nothing quite like loading up in your Wrangler , hitting the back trails, and getting some mud on the tires! At Dodge Country , we know one of the joys of Jeep ownership is having the freedom to leave the road behind and go off-road. With that in mind, we've put together a few tips to prepare for your next off-road excursion.

There are a few things you can outfit your Jeep with to make your off-road trip easier, as well as safer for you and your Jeep. All of this equipment is optional, but if you're serious about off-roading they are good investments. They also make great gifts, and with Black Friday and the holiday season coming up, it's a good idea to keep your eye out for some deals.
Lift Kit
A lift kit will allow you to more easily clear rocks, tree limbs, and any other hazards you might come across on the trail. This will make your trip easier, and help protect your undercarriage from damage. They also allow you to equip larger tires.
Off-Road Tires
If you have a Wrangler you probably already have off-road-ready tires, but depending on your trip you might want to beef up your tires a bit. Some tires are better for mud, others for sand and rocks – the tire you need really depends on what you'll encounter on the trail. Research your route, and make sure you have the necessary traction.
Winch
Handy for pulling yourself or a fellow Jeep out of mud, sand, and snow, a winch is a must-have for any off-road trip. They have a million applications, and you'll be glad you have it when you need it. Plus, they look cool, so they have that going for them.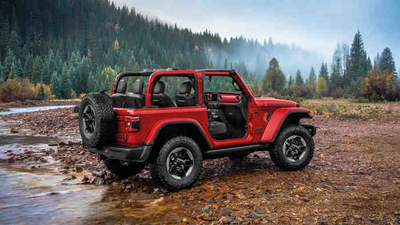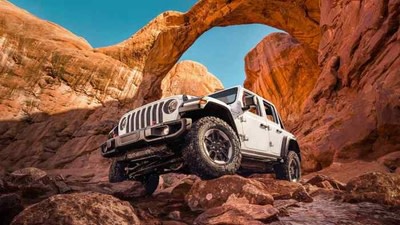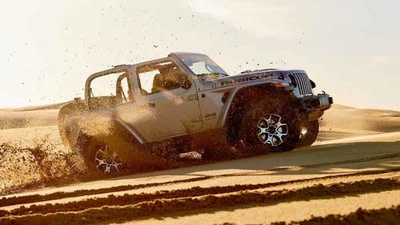 Air Compressor & Tire Deflator
We cannot overstate how important it is to keep your tires properly inflated on the trail. Air compressors and tire deflators are invaluable tools that should be a part of any off-roading kit.
Fire Extinguisher
If something manages to catch fire, it's important that you're able to put it out yourself. It's very unlikely that emergency services will be able to reach your Jeep in time to save it, so a fire extinguisher is a must.

Aside from equipment, it's important to ensure your Jeep is up to date on its basic maintenance. You never know what you'll encounter on the trail, and the last thing you want to worry about is whether or not you need an oil change. If you have any service questions before your trip, stop by our advanced service center and our expert service technicians will be happy to help!

Is your Jeep off-road-ready? Share your setup with us on Facebook ! If you want to get into off-roading, just shop our Jeep inventory online or come see us for all of your car buying and maintenance needs! Freedom Jeep Chrysler in Killeen is your local source for all of your Jeep and Chrysler buying needs in Killeen, serving Austin, Waco, Temple, Belton, Harker Heights, and Copperas Cove.